News Release
CRISPR Therapeutics Proposes New Appointment to the Board of Directors
ZUG, Switzerland and BOSTON, Oct. 16, 2023 (GLOBE NEWSWIRE) -- CRISPR Therapeutics (Nasdaq: CRSP), a biopharmaceutical company focused on creating transformative gene-based medicines for serious diseases, today announced it proposes to elect Sandy Mahatme, LL.M. to its Board of Directors at the Company's next annual general meeting to be held in 2024.

"I am honored to welcome Sandy to our Board during an important time in CRISPR Therapeutics' continued evolution," said Samarth Kulkarni, Ph.D., Chief Executive Officer and Chairman of the Board of CRISPR Therapeutics. "Sandy brings a considerable breadth of experience to CRISPR Therapeutics gained from his senior roles at industry-leading companies and has a strong track record of success in finance, business development and corporate strategy. His extensive experience and expertise will make him an outstanding addition to our Board, and we look forward to the valuable insights he will bring."
Mr. Mahatme currently serves as President, Chief Operating Officer and Chief Financial Officer of National Resilience Inc., a technology-focused biomanufacturing company dedicated to broadening access to complex medicines. He previously served as Executive Vice President, Chief Financial Officer and Chief Business Officer of Sarepta Therapeutics, Inc., a position he held for almost eight years. Prior to those roles, he worked at Celgene Corporation, where he served in various positions including Senior Vice President of Corporate Development, Senior Vice President of Finance, Corporate Treasurer and Head of Tax. Mr. Mahatme served in senior roles in business development and corporate finance at Pfizer, Inc. after starting his career at Ernst & Young LLP. Mr. Mahatme earned Master of Laws degrees from Cornell Law School and the New York University School of Law and is a member of the New York State Bar Association. He has previously held board positions at a number of biopharma companies and currently holds a board position with Idorsia Pharmaceuticals Ltd.
About CRISPR Therapeutics
CRISPR Therapeutics is a leading gene editing company focused on developing transformative gene-based medicines for serious diseases using its proprietary CRISPR/Cas9 platform. CRISPR/Cas9 is a revolutionary gene editing technology that allows for precise, directed changes to genomic DNA. CRISPR Therapeutics has established a portfolio of therapeutic programs across a broad range of disease areas including hemoglobinopathies, oncology, regenerative medicine and rare diseases. To accelerate and expand its efforts, CRISPR Therapeutics has established strategic partnerships with leading companies including Bayer, Vertex Pharmaceuticals and ViaCyte, Inc. CRISPR Therapeutics AG is headquartered in Zug, Switzerland, with its wholly-owned U.S. subsidiary, CRISPR Therapeutics, Inc., and R&D operations based in Boston, Massachusetts and San Francisco, California, and business offices in London, United Kingdom. For more information, please visit www.crisprtx.com.
CRISPR THERAPEUTICS® word mark and design logo are registered trademarks of CRISPR Therapeutics AG. All other trademarks and registered trademarks are the property of their respective owners.
Investor Contact:
Susan Kim
+1-617-315-4600
susan.kim@crisprtx.com
Media Contact:
Rachel Eides
+1-617-315-4493
rachel.eides@crisprtx.com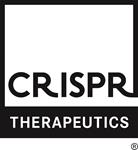 Source: CRISPR Therapeutics AG